WINTERSTEIGER Easyrent offers you:
Software modules for a perfect organization - efficient to use in any combination
Easyrent
The complete rental solution.
Rental functions – issuing, exchanging or returning (eg. ski rental software)
Z-number calculation for binding adjustment according to ISO standard
Settings for clients, branches and workplaces
An individual layout for every workplace
Cash desk functions with touch surface and special Quickbar
Simple, clearly arranged material management
Flexible pricing based on price lists, price definition, structures
Group administration – for families or groups of people
Administration of travel agencies, tour guides, vouchers
Reliable document capture – by webcam, passport scanner, magnetic stripe reader
Printing options – various formats A4, A5, letter, receipts, labels
Paperless rental – digital, legally binding signature
Management of hotels, nominal charges, season tickets
Inventory management, adjustments, sale of rental articles
Connection to binding setting devices – adjustment desk, customer checks
Integrated ISO 13993 standard for rental equipment
Pre-season check, random check
Test environment, security options, maintenance options
Automatic update and service pack function
Diverse tasks for interfaces, reservations and data backup
Extensive statistics and evaluations
Clear-cut lists for sales and payments as well as an invoice search function
Easyware
Compact inventory management solution.
Stock-based inventory management incl. groups of goods management (FEDAS or manually)
Complete POS functionality linked to all other Easy modules - a special cash register layout
EAN/UPC-code compatible, alternatively own label printing
Orders, returns, complaints, stock receipt, storage location
Articles in sorted tables to find them easily
Merchandise inventory
Customer bonus system
Automatic article import, DCC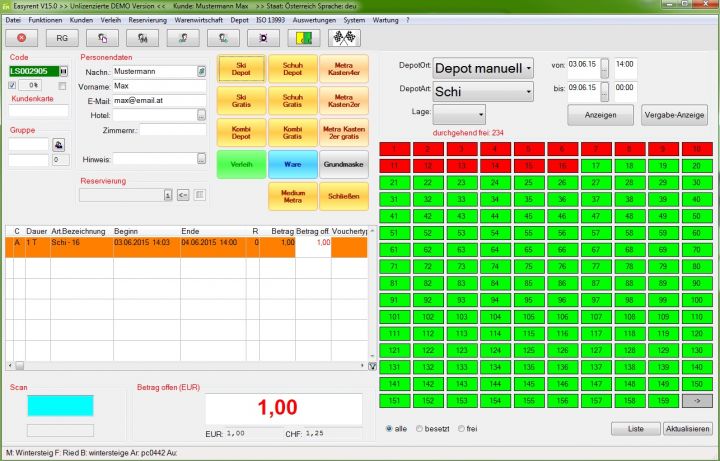 Easydepot
Attended, unattended depot solution, chip depot.
Simple and clearly arranged creation of various locations, types and groups of depots, attended and unattended
Lockers or in connection with depot systems
Automatic issuing logic based on various schemes
Printing of depot labels – various sizes, layouts
Reservation options – online, quotas, permanently assigned places
Analyses – revenue, utilization, issuing
Depot machine for self-service
Easyservice
The service and assembly management.
Full service processing – convenient sales
Customer service – repairs
Various printing options
Special function for binding checks
Rental service – separate administration
Cost analysis – evaluations
Management of reservations
Single and group reservations
Reservations according to equipment and rental group, model-specific
Availability check
Reservation form for student and tourist groups
Reservation lists, receipt printing or labels
Online reservation portal
Configuration and set up within Easyrent
Complete data upload – incl. regular customers
Image library of all major manufacturers
Automatic search for regular customers
Reservation according to rental group and size, model-specific
Online payment option
Automatic download and import of online reservations
Online Checkin
Configurable customer data questionnaire
For computer, tablet or smartphone
For diverse operating systems (iOS, Android, Windows)
E-Mail confirmation
Important marketing instrument