The flexible all-in-one solution for the rental business
Different challenges require flexible solutions that look ahead. WINTERSTEIGER Easyrent provides the appropriate products to meet your individual needs while offering many options for the future.

The entry level package of WINTERSTEIGER Easyrent already offers a compelling range of exceptional features. There's no need to sacrifice: the modular concept allows you to upgrade at any time, all the way to the high-end solution. Demand and equipment are thus brought into line. The user-friendly Windows interface makes operating WINTERSTEIGER Easyrent a breeze, regardless of the configuration level. The use of advanced computer technologies in hardware and software ensures maximum professionalism and reliability.
WINTERSTEIGER's experienced sales staff can help tailor an individual solution to fit your needs!
WINTERSTEIGER Easyrent offers you:
Software modules for a perfect organization - efficient to use in any combination
Easyrent
The complete rental solution.
Rental functions – issuing, exchanging or returning (eg. ski rental software)
Z-number calculation for binding adjustment according to ISO standard
Settings for clients, branches and workplaces
An individual layout for every workplace
Cash desk functions with touch surface and special Quickbar
Simple, clearly arranged material management
Flexible pricing based on price lists, price definition, structures
Group administration – for families or groups of people
Administration of travel agencies, tour guides, vouchers
Reliable document capture – by webcam, passport scanner, magnetic stripe reader
Printing options – various formats A4, A5, letter, receipts, labels
Paperless rental – digital, legally binding signature
Management of hotels, nominal charges, season tickets
Inventory management, adjustments, sale of rental articles
Connection to binding setting devices – adjustment desk, customer checks
Integrated ISO 13993 standard for rental equipment
Pre-season check, random check
Test environment, security options, maintenance options
Automatic update and service pack function
Diverse tasks for interfaces, reservations and data backup
Extensive statistics and evaluations
Clear-cut lists for sales and payments as well as an invoice search function
Easyware
Compact inventory management solution.
Stock-based inventory management incl. groups of goods management (FEDAS or manually)
Complete POS functionality linked to all other Easy modules - a special cash register layout
EAN/UPC-code compatible, alternatively own label printing
Orders, returns, complaints, stock receipt, storage location
Articles in sorted tables to find them easily
Merchandise inventory
Customer bonus system
Automatic article import, DCC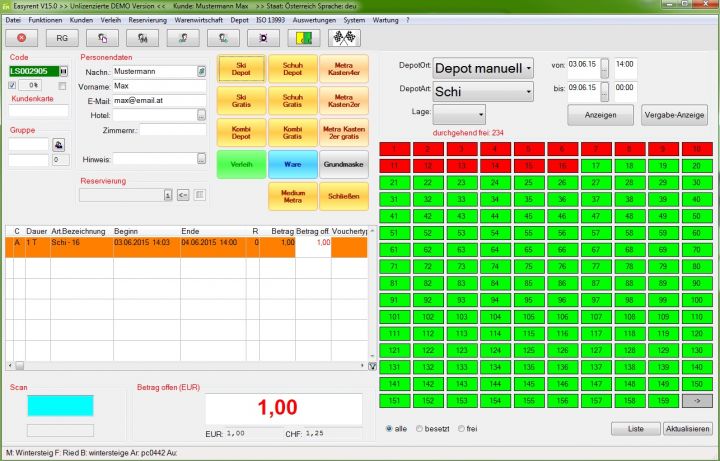 Easydepot
Attended, unattended depot solution, chip depot.
Simple and clearly arranged creation of various locations, types and groups of depots, attended and unattended
Lockers or in connection with depot systems
Automatic issuing logic based on various schemes
Printing of depot labels – various sizes, layouts
Reservation options – online, quotas, permanently assigned places
Analyses – revenue, utilization, issuing
Depot machine for self-service
Easyservice
The service and assembly management.
Full service processing – convenient sales
Customer service – repairs
Various printing options
Special function for binding checks
Rental service – separate administration
Cost analysis – evaluations
Management of reservations
Single and group reservations
Reservations according to equipment and rental group, model-specific
Availability check
Reservation form for student and tourist groups
Reservation lists, receipt printing or labels
Online reservation portal
Configuration and set up within Easyrent
Complete data upload – incl. regular customers
Image library of all major manufacturers
Automatic search for regular customers
Reservation according to rental group and size, model-specific
Online payment option
Automatic download and import of online reservations
Online Checkin
Configurable customer data questionnaire
For computer, tablet or smartphone
For diverse operating systems (iOS, Android, Windows)
E-Mail confirmation
Important marketing instrument
Extensive solutions and interfaces
Easybase
Basic and entry-level solution.
Basic functions
Customer management
Payment functions
User administration
System / Maintenance
Easyworkstation
Cash desk, adjustment desk and much more.
Individual layouts
Optimized for touchscreens
Special functions according to software module
Diverse hardware options
Easycheckin
Simple customer pre-acquisition.
Quick and easy customer pre-acquisition
Multiple languages (choice of up to 20 languages)
Group and family functions
Individually configurable masks and fields
Touch-operated or by keyboard/mouse
Automatic search for regular customers
Receipt printing or customer label
Multiple steps for rental, binding adjustment and servicing
Easymobile
Solution for mobile workplaces.
PDA/Tablet as a mobile workplace
Renting, exchanging, returning
Add-on sales
Material rearrangement and control
Inventory taking
EasySBdepot
Self-service machine.
Lockable housing
Easy-to-use software, multiple languages available
Integrated chip reader
Credit card terminal interface
Easyoffice
Back office solution for reporting and administration.
Back office workplace
Revenue / payment lists
List collections
Travel agency / settlement with tour guides
Statistics / customized reports
External reporting tool
Easyreplication
Various networking options.
Networking branches either by central terminal server or replication solution – real database
Background synchronization
Mixed operation is possible
Easypool
Network solution for multiple dealerships.
Network of several companies linked to one data pool
Common database – defined data access
Automatic clearing according to material and service
Easyinterfaces
Solutions for interfacing with other products.
Payment systems – Europay, Card Complete, Pay Life, Pepper, babs, nets, Shift4, PC Charge
Merchandise management systems – Intersport ISIS, Wawin, Medeas, advarics, Rebel, Intersys, WinRetail
Depot solutions – Metra, Gladek, Sulzberg, Gantner, Salto
Reservation systems – IS Rent, Sport 2000, Skiset, Waldhart, Alpinresorts, Snowell, Skimium, Best Price, Skibay
Hotel PMS systems – Mafis, Fidelio, Protel, Opera
Ski pass systems – Skidata, Team Axess
Fiscal systems – Italy, Norway, Sweden
Other interfaces – DSV Insurance, Intersport eCRM, Waldhart Ski School
Software, external binding setting devices, SOAP interface, various customer data imports
Easyhardware
Various special hardware components.
Touch-PC components
Receipt, label, laser printer
Customer display, cash drawer
Wireless or corded scanners
ID capture by external OCR reader for passports, identity cards, driver's licenses, credit cards
Magnetic card readers for credit cards
Network cameras for photographing badges, security-related documents
Digital signature pad – digital certificate and biometric signature for protected, legally binding documents
Addimat - waiter lock
Easysupport
Support from planning to operation.
WINTERSTEIGER stands for high-quality support and sales. We are working intensively on providing the right solution for your shop and permanent support for it as well.
Support in designing the optimal rental operations for your shop
Assistance in selecting the right hardware for the desired solution
Installation and training
Remote maintenance and support during the season
Daily monitoring and system check
More than 1,000 satisfied licensees worldwide convey quality and trust.
From the entry-level solution to the full version with everything, WINTERSTEIGER Easyrent always offers the right package with high flexibility. The already extensive basic configuration can be modularly expanded at any time – to meet the specific needs of your business. The combination of services, various depot solutions our inventory management guarantees a new level of efficiency. A range of interfaces allows simplified processing even when using other products and systems.