Custom-made solutions - the right choice for everyone
WINTERSTEIGER's Easystore Flex systems for rental, depot and drying are extremely flexible and stable – they also offer a modern design as well as many new solutions that make them highly functional.
NEW: Flexframe makes the front panels flexible.
By using the Flexframe system you can quickly and easily change your front panels – e.g., for the summer or winter seasons.
Summer season, winter season, or simply a new look? With Flexframe, the choice is yours. Your rental system can be personalized quickly and easily with new front panels. The frames have been deliberately designed in neutral aluminum and to be as narrow as possible, so their modern, sleek look does not distract from the designs on the front. A recessed grip has been subtly integrated into the frame for moving the rental racks. This ensures that the sleek look is maintained without any unsightly handles. Printed with your logos and according to your design ideas on a choice of robust and stable panels or fabric. The advantage: The fabric covering is easy to store and takes up little space.
The individual storage and dryer modules can be freely combined with each other to create individual storage systems. Even within the same trolley.
Modular and Easy
Wheels, feet and wall mounting
High capacity and minimum space requirement
7 lengths and 4 heights
Storage and drying
Powder coated and galvanized
ABC customers and FOM design
Two types of Easystore Flex storage systems are available:
Ski racks of sendzimir-galvanized panel-sheet - ideal for the back-of-shop area
Ski racks of sendzimir-galvanized panel-sheet with additional powder coating - for a professional appearance
For an individual design, the ski rack's vertical supports can be equipped with narrow or wide front panels at the front and rear.

For the front panel, there are three options to choose from:

Functional: The entry-level model in trendy white
Optimal: A selection of wood designs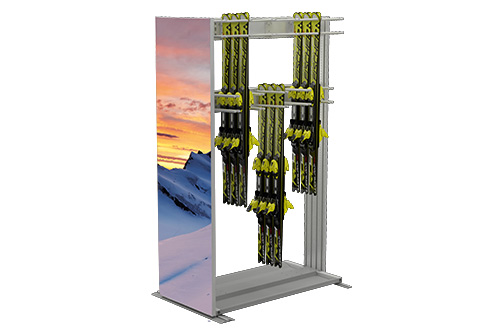 Maximal: Panels printed with your logo and professional design

The popular Easystore storage system in the Easystore Basic product line offers maximum functionality. The trolley concept builds on WINTERSTEIGER's many years of experience with rental systems.

Proven features are therefore the recipe for success of Easystore Basic. These include the 3-point clamping system for fixing the skis, space-saving hanging system for sports equipment of all kinds, easy adjustment of the forks, flexible height adjustment of the ski racks, and much more.
Easystore Basic - as functional as a ski rental can be and as versatile as winter sports are.